2022 Southwest Believers Convention
Speaker Schedule – Watch On-demand
---
The 2022 Southwest Believers' Convention has now come to an end and what a power-packed week it was.
You can watch all the massages on-demand, on KCM Europe's YouTube Channel
Tune in and watch faith-filled messages from dynamic speakers.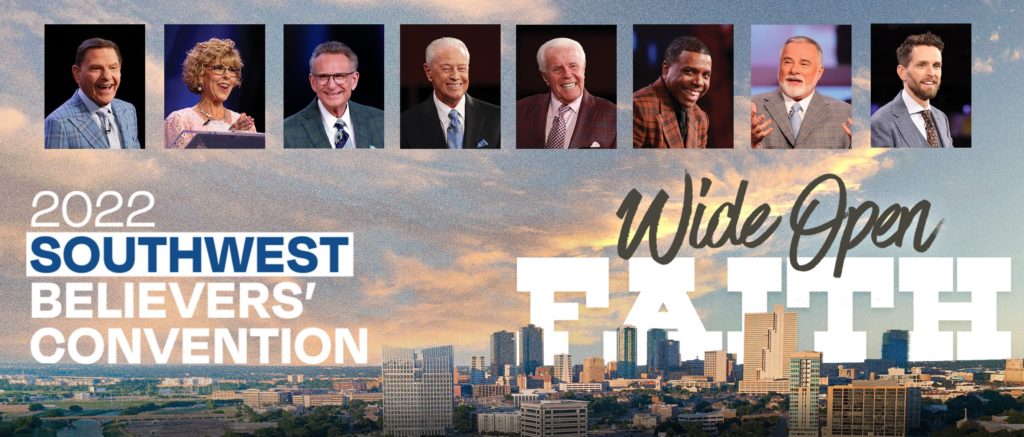 Click HERE to download the Speaker Schedule in PDF format. You can print it or save it on your device. Alternatively, you can check directly on this page.
Monday 1st Aug 2022
14:30 BST / 15:30 CET     Prayer Everywhere w/Terri Copeland Pearsons
15:00 BST / 16:00 CET     Kenneth Copeland
16:30 BST / 17:30 CET     Keith Moore
20:00 BST / 21:00 CET     Jesse Duplantis
21:00 BST / 22:00 CET    Jerry Savelle
00:30 BST / 01:30 CET    Prayer Everywhere w/Terri Copeland Pearsons
01:00 BST / 02:00 CET     Kenneth Copeland
Tuesday 2nd Aug 2022
14:30 BST / 15:30 CET     Prayer Everywhere w/Terri Copeland Pearsons
15:00 BST / 16:00 CET     Jesse Duplantis
16:30 BST / 17:30 CET     Jerry Savelle
20:00 BST / 21:00 CET     Jeremy Pearsons
21:00 BST / 22:00 CET    Keith Moore
00:30 BST / 01:30 CET    Prayer Everywhere w/Terri Copeland Pearsons
01:00 BST / 02:00 CET     Creflo Dollar
Wednesday 3rd Aug 2022
14:30 BST / 15:30 CET     Prayer Everywhere w/Terri Copeland Pearsons
15:00 BST / 16:00 CET     Jerry Savelle
16:30 BST / 17:30 CET     Kenneth Copeland
20:00 BST / 21:00 CET     Keith Moore
21:00 BST / 22:00 CET    Creflo Dollar
00:30 BST / 01:30 CET    Prayer Everywhere w/Terri Copeland Pearsons
01:00 BST / 02:00 CET     Jesse Duplantis
Thursday 4th Aug 2022
14:30 BST / 15:30 CET     Prayer Everywhere w/Terri Copeland Pearsons
15:00 BST / 16:00 CET     Creflo Dollar
16:30 BST / 17:30 CET     Jesse Duplantis
20:00 BST / 21:00 CET     Keith Moore
21:00 BST / 22:00 CET    Jeremy Pearsons
00:30 BST / 01:30 CET    Prayer Everywhere w/Terri Copeland Pearsons
01:00 BST / 02:00 CET     Jerry Savelle
Friday 5th Aug 2022
14:30 BST / 15:30 CET     Prayer Everywhere w/Terri Copeland Pearsons
15:00 BST / 16:00 CET     Kenneth Copeland (Increase Day)
20:00 BST / 21:00 CET     Jerry Savelle
21:00 BST / 22:00 CET    Jesse Duplantis
00:30 BST / 01:30 CET    Prayer Everywhere w/Terri Copeland Pearsons
01:00 BST / 02:00 CET     Kenneth Copeland
Saturday 6th Aug 2022
15:00 BST / 16:00 CET     Prayer Everywhere w/Terri Copeland Pearsons
15:30 BST / 16:30 CET    Healing School
00:30 BST / 01:30 CET    Prayer Everywhere w/Terri Copeland Pearsons
01:00 BST / 02:00 CET     Kenneth Copeland