Your Sowing in Action
Vision for Israel aka The Joseph Storehouse Trust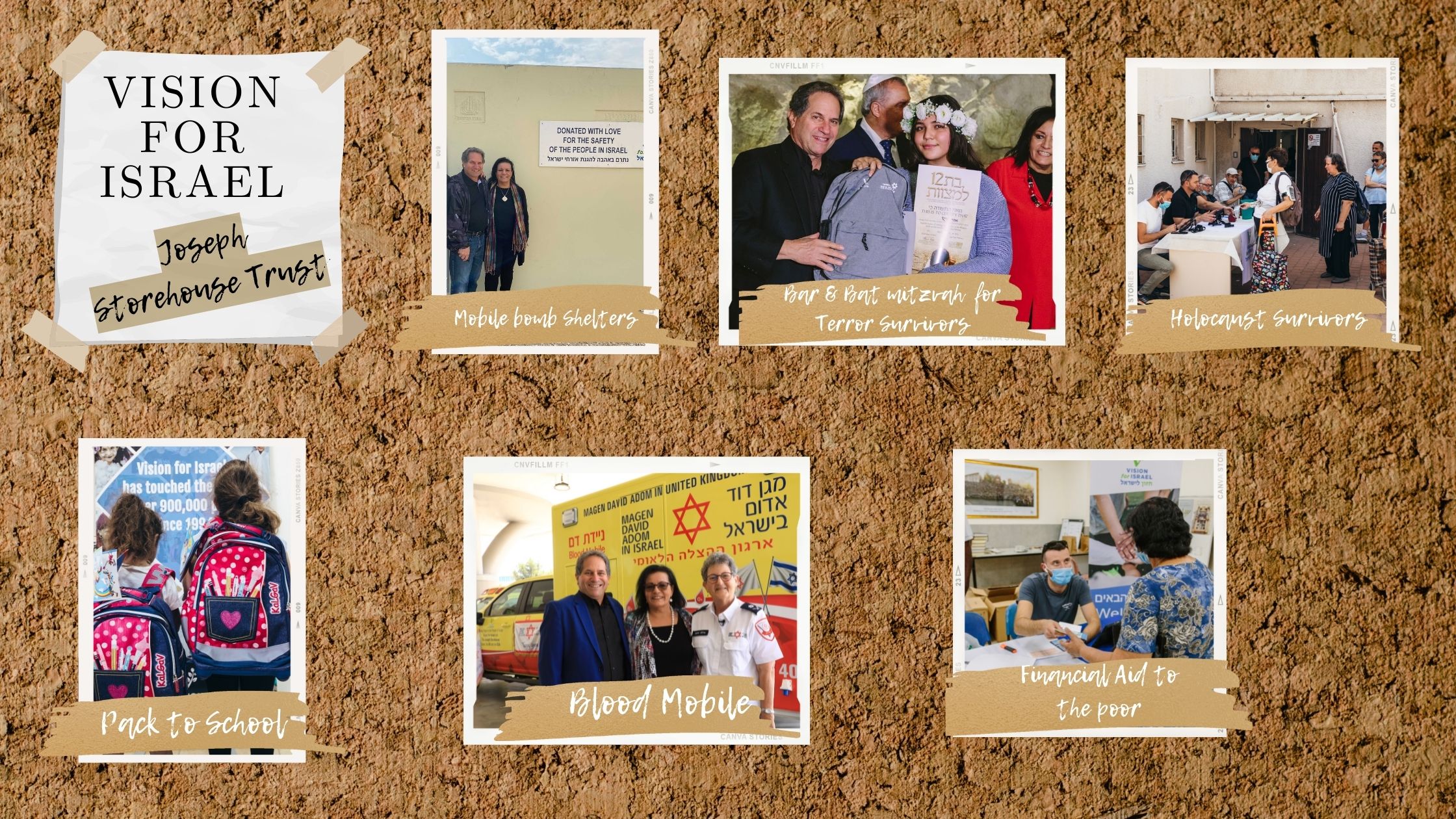 Vision for Israel (aka The Joseph Storehouse) is a charitable organisation based in Modiin, Israel, with a mission to support the people of Israel. Their work includes providing supplies, humanitarian aid, disaster relief, and community support to those who need it most. They have helped millions of people over their 26 years as an organization, and they continue to do amazing work for the Israeli people and Jewish communities around the world.
The organisation began by providing financial support to terror survivors, a service that they still perform today. They've since expanded to help victims of terrorism to heal properly and live happy healthy lives. They sponsor bar and bat mitzvah celebrations for children and families who have been affected by terrorism. They donate supplies and support directly to these families, and help them achieve their goals despite what they've been through.
Vision for Israel provides financial support in the form of magnetic gift cards to help families in need for the holidays and also year-round. In addition, the ministry provides food, basic necessities, and household supplies, based on each family's unique needs.
During the late summer months, Vision for Israel distributed backpacks full of school supplies to children who need them. Many of the children they help would not have a backpack to attend school with otherwise, as their families cannot afford the necessary supplies.
Their first response program has expanded emergency services in remote areas of Israel. VFI has donated ambulances, medi-cycles, and a bloodmobile to expand first response services. These donations have ensured that more people survive injuries, illnesses, and acts of terror. In addition to these major supplies, they continue to donate everyday supplies to EMT services, to ensure that the operations run smoothly and no one is left behind.
The team at Vision for Israel continues to prioritize children, giving essential support to children with special needs and their families. They also participate in food programs at local schools, to ensure that the children of Israel have food in their stomachs while they learn.
Most recently, Vision for Israel has taken action to help Ukrainian refugees and new immigrants settle in Israel. During this time of destruction and war, Vision for Israel has committed to being a source of support for those who need it most. They've supplied food, hygiene products, basic supplies, and other necessities to the families who have lost everything. While many civilians have been paralyzed by the severity of the situation, Vision for Israel leapt into action and fulfilled the important needs of the refugee community.
In over a quarter-century of work, no matter what is going on, VFI is there to ensure the safety, security, and comfort of the poor and suffering. No organization in Israel does more for citizens in the name of God than Vision for Israel.
Thank you KCM Europe
 Testimonies
"You understand full well the essence and practical significance of the saying, 'that the strength of a chain is tested and measured by the strength of the weakest link', and that 'we are all one human chain', and the care for strengthening the weak links in it should be in our minds wherever we go, anywhere and anytime. I hope you can continue helping the needy and be alongside them along their path." -Shalom Jarbi, Terror Victim

"I would like to express my appreciation and gratitude on behalf of the Representative Organisation for Terror Victims and its members, to Vision for Israel, headed by Batya and Barry Segal, for your contribution to the distribution of first-grade school bags for victims of hostilities and their families." – Ro'ee Cohen, Adv., Director-General Organisation of Victims of Hostilities

"We would like to thank you for all the successful cooperation with you. We've had the privilege of combining forces [with you] and for a long time we have been helped by your blessed donations for downtrodden families in the city. The aid of [your] organisation with food baskets, money vouchers, backpack and more contributes much to the welfare of the families." – Hila Hamami, Manager, Ma'aleh Adumim Municipality
---
It's with thanks to our Covenant Partners and Friends, who have committed to support KCM through their financial giving that enables KCM to preach the uncompromised Word of God to the world. 
Your seed becomes twice-sown seed and allows KCM to give to Ministries like Vision for Israel (aka) The Joseph Storehouse Trust.
You truly are co-labourers with the KCM staff in the work God has called Kenneth and Gloria to do.
We are reaching thousands of people through our Partner Ministries.