Learn How to Evangelise
Speak the Word and Pray

Evangelism is not just for the evangelists. Riley Stephenson, Minister of Evangelism for Kenneth Copeland Ministries, explains this in a very simple way: "I do have a special anointing; I'm a believer! You have that same anointing!" In Mark 16, it says that certain signs follow those who believe (believers, or believing ones, verse 17). If you're a believing one, signs will follow you when you're proclaiming God's Word and testifying about the Lord. There are various methods or techniques for winning souls. I will share with you what has worked for me for years."
---
"I witness the same way every day, using a pocket-sized card that contains the following script."
Hi, my name is _______________[GIVE YOUR FIRST NAME].
I want to ask you a few questions.
Do you live in the area? Do you go to church in ________________
[NAME THE PERSON'S TOWN]? ________________
[REPEAT THE PERSON'S NAME],
I have another question: If you died right now, where would you go?
[IF HE OR SHE RESPONDS, "TO HELL," "I DON'T KNOW" OR GIVES ANY OTHER ANSWER BESIDES "HEAVEN," GO STRAIGHT TO THE SCRIPTURES THAT FOLLOW—
ROMANS 3:23
,
ROMANS 6:23
AND
ROMANS 10:13
.]
[IF HE OR SHE RESPONDS, "TO HEAVEN," say:]
That's great,________________. Let me ask you — if God were to say to you, "Why should I let you in?" what would you tell Him?
[IF THE PERSON GIVES ANY OTHER ANSWER THAN THE FOLLOWING, RESPOND:]
There's only one reason why God would allow anyone to stand in His presence, and it's because Jesus took our place and died on the cross for us so that we could be saved.
[NOTE: IT'S IMPORTANT TO NOT ARGUE WITH THE PERSON. IF HE/SHE SAYS, "I'M A GOOD PERSON," "I GIVE TO THE POOR," "I GO TO CHURCH," ETC., YOU SHOULD SIMPLY SAY SOMETHING LIKE,
"That's great. We need more good people in this world"
. THEN, REDIRECT HIM/HER TO THE SCRIPTURE. NEVER ASK IF YOU MAY READ THE SCRIPTURE TO THE PERSON. SIMPLY REDIRECT THEM TO THE WORD.]
The Bible says, "All have sinned and come short of the glory of God" (Romans 3:23) and, "The wages of sin is death, but the gift of God is eternal life in Christ Jesus our Lord" (Romans 6:23). But, Romans 10:13 says, "For 'whoever calls on the name of the Lord shall be saved.'"
Pray this prayer after me:
"Heavenly Father, I believe Jesus died on the cross for me and rose again
[RESPONSE].
I give You my life
[RESPONSE].
I want Jesus Christ to come into my life and into my heart. Amen
[RESPONSE].
"
This excerpt was taken from Riley Stephenson minibook '12 Keys to Successful Evangelism: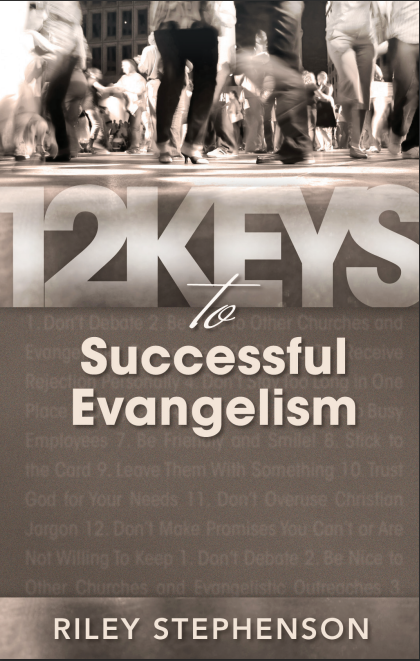 Download this digital eBook to learn more.
We would also like to offer you two tracts that you could use on any evangelistic outreaches or whenever the Lord leads you. Please click on the images below to download and print.
These tracts will direct the new believers to the KCM Europe Learn section to learn the fundamentals of faith on healing, prosperity, prayer, partnership, love of God and much more. Click on the graphics below to access and download these resources. If you are a Partner or a Partner Church with KCM Europe, we can send you copies of these evangelistic tracts for free.
The KCM Europe Evangelism Blog