2,000 years ago, Jesus gave the Great Commission
"And then he told them, go into all the world and preach the Good News to everyone" (Mark 16:15 NLT).

It doesn't matter your occupation or calling, Jesus commissioned every single believer to share the good news.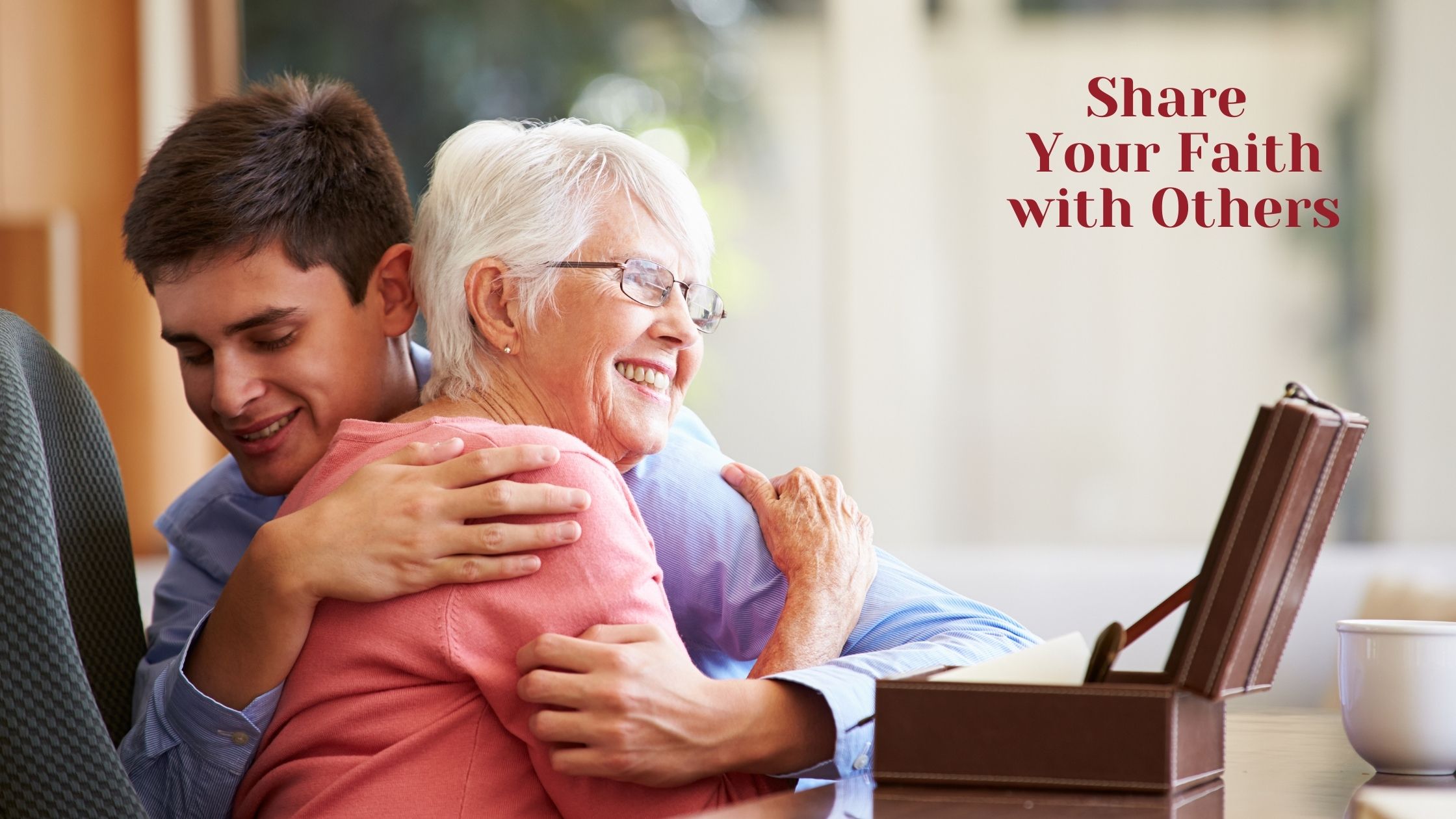 This isn't just for people in "ministry", it's an essential business for every believer.
Sometimes sharing your faith can feel foreign, especially if you've never done it before. Below are four simple steps to get started, that Riley Stephenson, the Minister of Evangelism at Kenneth Copeland Ministries, has for you!
Find an Evangelism group through your church or other groups of believers
Go out and observe other believers sharing their faith
Push past the fear and start sharing your faith
Allow the Holy Spirit to speak through you and remember to listen to His directions (Jesus only said what He heard His Father say).
Getting out with an evangelism team is a great way to get your feet wet before you step out onto the water on your own.
You are Called for This
Here are some important considerations when sharing your faith:
Jesus loves you, and He loves you enough to trust you to share Him with the world! What an honour!
Jesus loves every single person you come in contact with the same, no matter their faults or their past.
The enemy does not want people to know Jesus. The good news is you work for Jesus, and the battle has already been won!
Don't let fear rule when you're sharing your faith. Just start.
No matter where you personally may be in your walk with God, He can use you. Do not compare your faith to anyone else's. Jesus is the Author and Finisher of your faith.
Every seed you plant counts, whether it comes to harvest immediately or by way of another believer.
As you share your faith with others, hold close to Hebrews 4:12-13 (MEV):
"For the word of God is alive, and active, and sharper than any two-edged sword, piercing even to the division of soul and spirit, of joints and marrow, and able to judge the thoughts and intents of the heart.  There is no creature that is not revealed in His sight, for all things are bare and exposed to the eyes of Him to whom we must give account."
Remember, the same Holy Spirit who raised Jesus from the dead lives inside of you. You are commissioned to share your faith!
Be bold in sharing your faith wherever you go – on an evangelism outreach, or when you're stopping to get petrol, at the grocery store, on a flight, or going to get your mail.
Ultimately, if we are to reach everyone, we can't get complacent as we grow in our faith or assume most people we come in contact with are already saved.
No matter where you are in your walk, there's no better time to start sharing than today.
Look at everyone as if they're an unsaved family member. And look forward to reuniting with many of these familiar faces when you reach your heavenly home one day! They will thank you!
Download the minibook '12 keys to Successful Evangelism' for free
Motivated by Love
We should follow Jesus' example and begin to see people and speak to them as He did. Paul encouraged us that, when we speak, our words should be gracious and attractive so that we will always have the right answer for everyone we speak to.
How do you see and talk to people who don't look, act, dress, or speak like you?
Subscribe to Kenneth Copeland Ministries Europe on You-Tube.
If you would like to walk like Paul walked bringing multitudes to Jesus, we encourage you to pray this prayer:
Heavenly Father, teach me today how to see people as You see them. Change my attitude and actions concerning the lost. Holy Spirit, guard my tongue when I want to speak words of condemnation and judgment to those around me. I want my words today to be gracious and attractive. I want my words to be only what You would have me say, nothing else. Use my lips to bring healing to the sick and salvation to the lost, in Jesus' name I pray. Amen.
If you didn't grasp yet how great and deep is the love God has for you, we encourage you to sign up to the study course 'Love Letters from Heaven'.
Hearing God's Voice to Win Souls
When you're not sure whether the Holy Spirit is leading you to minister to someone, rely on the peace in your heart. The Bible says, "God is not the author of confusion, but of peace" (1 Cor. 14:33, KJV). Before you go out to share your faith, ask the Lord where He wants you to go, and then, when you get there, ask Him who He wants you to talk to. It's really simple. And it takes the pressure off us! God shows us exactly where to go and what to do.
Riley Stephenson, Evangelism Minister at Kenneth Copeland Ministries, shares how the Holy Spirit leads with an example:
On one of our evangelistic outreaches, we were in a Walmart. As we were getting ready to leave, one of the ladies said to the Lord, "Lord, if You're done, I'm done, but if You're not done here, show me what else You want me to do." Right then she heard the Lord say, "There will be one more girl your age for you to talk to, and she'll be wearing a pink shirt."

Almost immediately this woman noticed a lady her age wearing a pink shirt. She spoke with the lady using our pocket reference card—and prayed with her to receive Jesus!
Notice that this woman did three things:
She waited for peace in her heart — she let the Word of God in her heart "act as umpire" (Col. 3:15 Amp).
She talked to the Lord — she asked God, "Show me what to do," knowing that it was not about her.
She obeyed exactly what the Lord showed her to do.
It is so simple to hear God's voice and then to obey it. We need to realise that we are not the ones who bring about salvation in others. The Holy Spirit leads, guides, and directs us as to where we should go, whom we should talk to, and what we should say.
Jesus said, "I don't speak on my own authority. The Father who sent me has commanded me what to say and how to say it. And I know his commands lead to eternal life; so I say whatever the Father tells me to say." (John 12:49–50, NLT).
Riley ends with a prayer for you, our KCM Europe Partners and friends:
"I pray that you'll be open today to the Holy Spirit's prompting and that you will obey what He tells you, knowing that His words spoken through you will lead someone to eternal life" – Riley Stephenson
---
If you need us to join with you in a prayer of agreement for the boldness to evangelise and for people to get saved, our Prayer Team are here for you.  Contact us today on +44 (0)1225 787310 or send us a Prayer Request.