---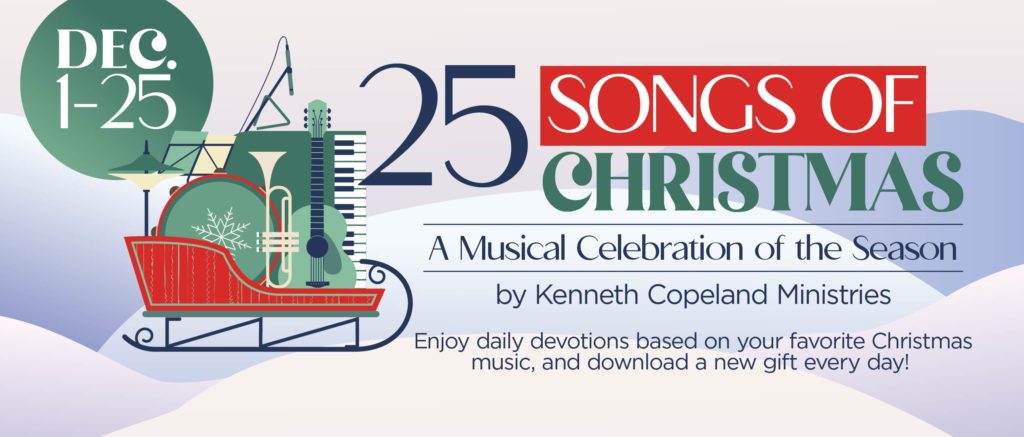 ---
There's nothing like music to put you in the Christmas spirit! From 1st to 25th of December, we invite you to center your heart on the birth of Jesus and worship Him during our 25 Songs of Christmas—A Musical Celebration of the Season.
Each day, you'll sing along and focus on either a traditional hymn or modern Christmas song performed by Kenneth Copeland or an artist from our ministry family. As you hear these treasured songs and read the day's devotion, your heart will be filled with the true joy and peace Christmas brings.
And this celebration wouldn't be complete without presents! Kenneth and Gloria Copeland want to bless you with a new digital gift to unwrap every day to help you put your faith in Jesus now. No matter what you're facing this holiday, faith in Jesus is the answer.
The birth of Jesus is one of the most joyous celebrations we have as Christians, so make plans to join us for 25 Songs of Christmas — A Musical Celebration of the Season. You'll be inspired to remember the reason for the season, as we sing, worship and praise our Savior together this Christmas!
---
---
Joining this musical celebration of the season is easy. Simply click the button below to get started. Once you do, each day for the next 25 days, you'll discover a:
Specially selected Christmas songs performed by Brother Copeland or an artist from our ministry family
Short devotion of encouragement to help you remain focused on the true reason for this season
Whole slew of downloadable gifts— including e-books and audio teachings from Kenneth and Gloria Copeland and Pastors George and Terri Pearsons, as well as Copeland family recipes and other fun surprises. (We've had so much fun selecting these for you this year and can't wait to get them to you!)
---
---
---