The pieces of material, referred to as prayer cloths, do not heal any more than Jesus' garment healed the woman with the issue of blood as recorded in Mark 5:25-34. Though multitudes thronged Jesus, only this one woman drew virtue (or dunamis, energising power) for her healing.
That power came from the Holy Spirit residing in the Lord Jesus, the Anointed One.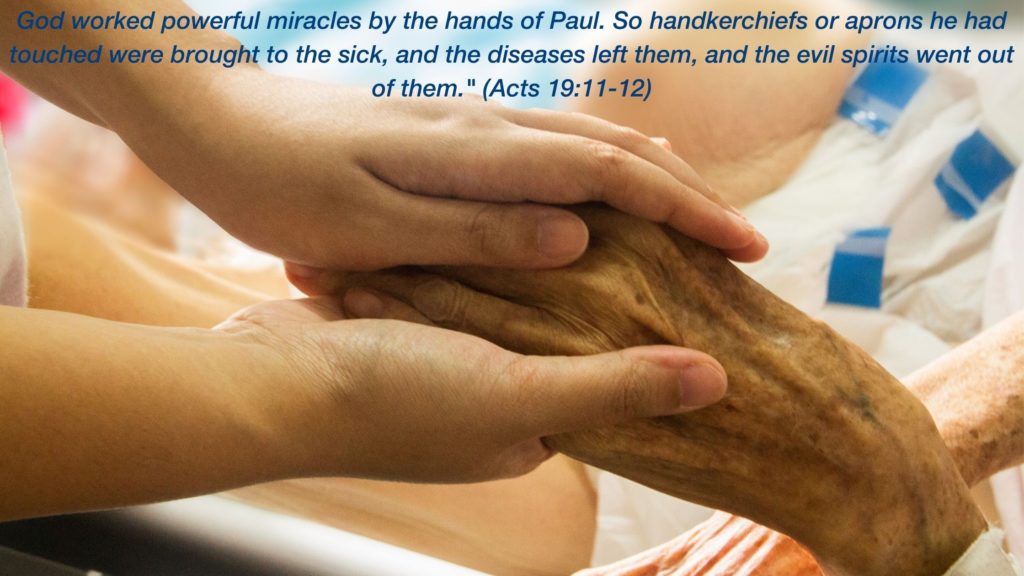 Jesus said it was her faith that made her whole.
A prayer cloth can be used as a point of contact for your faith like it was when Paul was in Ephesus.
"God worked powerful miracles by the hands of Paul.  So handkerchiefs or aprons he had touched were brought to the sick, and the diseases left them, and the evil spirits went out of them." (Acts 19:11-12 MEV)
The Power of The Holy Spirit
Remember that the true power source is the Holy Spirit, whom God has sent to us as a free gift of His love. Romans 15:13 says that we abound (or overcome) in hope by the power of the Holy Spirit when we believe.
As believers, we can partake of one another's supply of faith through the united prayer of agreement. Through this unified process of faith and the powerful Name of Jesus, we put ourselves in position to receive a greater manifestation of the power of the Holy Spirit.
We encourage you to reach out and contact us to stand in agreement and make a demand on the healing power of God, understanding that Jesus is the Healer. We receive the resurrection life that raised Jesus from the dead manifest this day in the Name of Jesus!
Our Prayer Ministers are here for you Monday – Friday, 09h00 – 16h20.  Call us on +44 (0)1225 787 310 or email prayer@kcm.org.uk.
---
Read this wonderful testimony from one of our Partners