"And now I exhort you to be of good cheer." – Acts 27:22, King James Version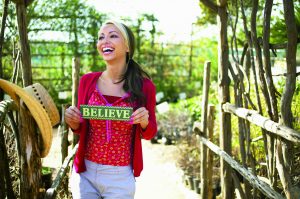 What do you do when you're in a really perilous situation?
If you're like I used to be, you cry out to God in desperation. One afternoon when I was squalling to God about something, He interrupted me and said, "Kenneth, did you know I don't hear the cry of My children when they cry out in desperation?"
"What?" I said. "I thought you did."
He said, "No, I hear the desperation cry of a sinner because that's all he can cry about. But once you get born again, son, you ought to be crying out of faith. I hear the faith cry."
What is a faith cry? It's calling things that be not as though they were (Rom. 4:17). It's what the Bible means when it says, "Let the weak say, I am strong" (Joel 3:10).
The Apostle Paul knew how to use the faith cry. That's why in Acts 27 he exhorted the men on that battered, sinking ship to "be of good cheer." He was telling them to start acting by faith. Can't you imagine what those sailors thought when he said that? "Listen to that stupid preacher. We're sinking and he says be of good cheer. We've thrown everything we have overboard and he says be of good cheer."
You may feel just like those sailors did, right now. You may feel like your ship's going down. You may feel like crying out in desperation. But don't do it. Instead, do what Paul said and be of good cheer!
Cry out to God in faith and say, "Lord, I'm not going to panic. I'm not going to despair. I'm going to be of good cheer because Your Word says You'll deliver me from this situation" (Ps. 34:19).
Then start being cheerful. It may take more determination than anything you've ever done before, but God will give you the strength to do it. He'll give you the power to be cheerful in the middle of the most ungodly darkness the devil can bring up.
Instead of crying out in desperation, take a faith stand. Sing and rejoice and praise God for your deliverance. Be of good cheer and you can be sure God will bring you through the storm just fine!
© 1991 Eagle Mountain International Church, Inc. aka: Kenneth Copeland Publications All rights reserved.
---
Let us pray with you today.  Whatever you're facing, together we can move mountains.  Call our dedicated Prayer Team on +44 (0)1225 787 310 or send your prayer request here.
"Again I say to you, that if two of you agree on earth about anything they ask, it will be done for them by My Father who is in heaven."  (Matthew 18:19 MEV)
Remember, God Loves You, We Love You and JESUS IS LORD!
---