"The Word became flesh and dwelt among us, and we saw His glory, the glory as the only Son of the Father, full of grace and truth" – John 1:14, Modern English Version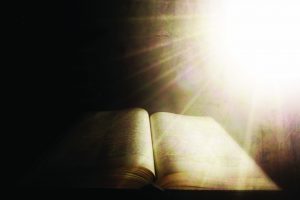 Jesus is The WORD made flesh, God, His WORD, and His Spirit are One. God used His power tool, His WORD, with which He created this universe, to reach back into His creation to reconnect with and redeem fallen mankind. He approached a man named Abram and received the man's permission to enter into blood covenant-a binding, legal agreement with Him.
Covenants are established with words. God spoke those things that be not as though they were and declared there was a Seed coming out of His covenant partner's descendants, through whom all the nations of the earth would be blessed (Genesis 22:18; 26:4). That Seed was Jesus (Galatians 3:16). Throughout the generations God continued to speak words through the mouths of His prophets that there was an Anointed One coming. There are scores of prophecies about the coming Messiah that were fulfilled in Jesus (Psalm 22:16; Isaiah 7:14; 60:3; Micah 5:2; Acts 7:52). It was a mystery, hidden in God. God kept all the descendants of His covenant man, Abraham, headed toward Jerusalem, which was the center of this mystery (Colossians 1:27).
God continued speaking His WORD into the earth, calling those things that be not as they were (Romans 4:17), until a young Jewish virgin girl, named Mary, who was visited by the archangel Gabriel, believed, received, and conceived God's WORD into her womb (Luke 1:38), The WORD had finally taken upon Himself flesh, and Jesus, the Lamb of God, who would take away the sin of the world, was born in Bethlehem, in the land of Judea-spoken into the world by God.
The Kenneth Copeland Word of Faith Study Bible © 2017 by Kenneth Copeland
---
If you desire great change, get immersed in our selection of FREE ONLINE COURSES, designed to build your faith, become strong in the Word and get you living in victory.