It is our joy to honour Kenneth Copeland for his dedication and commitment to getting the Word of God out on every available voice. We would like to say, 'Thank you' Brother Copeland for your uncompromising faith and your determination to take the Gospel of Jesus from the top of the world to the bottom and all the way around! We are so BLESSED by your example and the integrity that you have carried throughout your years in ministry!
From a night club singer to pilot, to child of God. You learnt from and served Oral Roberts while studying at ORU, after obeying God's call on your life.  And we thank God for your obedience, because you have changed the lives of hundreds of thousands through your teachings of faith.  Teaching us how to live in THE BLESSING, how to live a life of FAITH and how to live VICTORIOUSLY.  Always pointing us to the Word.
You are a pioneer of the Gospel in multiple generations. God bless you, Brother Copeland, and we pray that you continue in the power of His might until Jesus comes.
We would like to take this opportunity to share some stories from Brother Copeland's younger years, that will warm your hearts and make you smile.  Many of these stories have been taken from the book "A Journey of Faith – The first 30 years" published by Kenneth Copeland Ministries in 1997.
Kenneth Copeland was an inquisitive young boy, who loved to take things apart…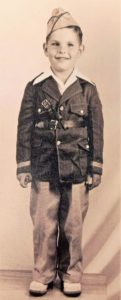 Kenneth shares, "My Mama learned quickly never to leave a clock or radio in my bedroom.  After everyone was in bed asleep, I'd still be awake listening to that clock tick.  To me it sounded like this, Tick…Tock…Take…Me…Apart…
I couldn't stand it.  The clock wouldn't last three days.  I had to find out what in the world was inside it, and what made it work.  I'd pull the thing in bed with me and start tearing it apart.
The problem was, I could never get it back together.  I had trouble in that area.  I'd get things apart, but I could never figure out how to fix them.  That was my talent – fouling up.  I succeeded in fouling up for many years, until I finally got desperate and made Jesus the Lord of my life.
Once I did that, the God-given character trait that had previously worked against me started working for me!  It caused me to go after the Word of God just like I did those clocks.  I just had to find out how it worked. The best part was, I had the Holy Spirit helping me.  He taught me how to use faith in the Word the way a mechanic uses a wrench or a carpenter uses a hammer.  He taught me how to stop tearing things up and start fixing them for a change."
Kenneth has a Gold Record – Pledge of Love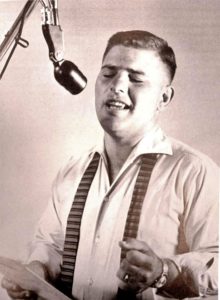 If you have ever heard Kenneth Copeland minister in song or serenade his wife on live television, you know he has a serious singing voice. But one thing most people don't know is that he was almost the next Elvis Presley. He was being groomed by the same circle of people to be the next singing sensation and world-renowned superstar.
His first record reached the Top 10 and sold 300,000 copies — a gold record.
"Years later," Kenneth recalls, "I experienced something greater than a hundred gold albums.  I discovered the true "Pledge of Love."
The author was Jesus.
It was released on a Cross.
It was recorded in heaven.
Finally, once and for all time, I put my life in His hands.
He gave me His Name – forever.
He promised never to leave me.
He promised me life, and life abundantly.
I discovered that I was in covenant with the King of kings…the Lord of lords…the Prince of Peace.  The God of the universe.
Now, that's success."
Kenneth as a Pilot
Most people know that Kenneth is a pilot, but before he was in ministry, he intended to pursue commercial piloting as a career. He worked for a commercial company in Little Rock, Ark., where they provided pilot services for several large companies and their families, including the Rockefeller family. He even remembers flying Rockefeller children to their dental appointments!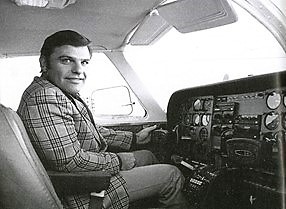 Kenneth became a pilot in 1959, and in 2012 the FAA awarded him for having more than 50 years in aviation without an accident. He has an excellent record, and he is a very talented pilot.
Kenneth proposed to Gloria after their first date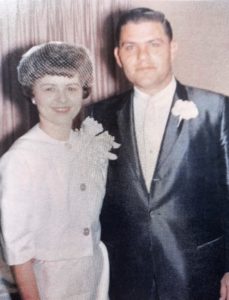 "After our date, I walked her up to the front porch and opened the door.
"Gloria," I said.  She turned around and looked at me.  "Will you marry me?"
She said, "Yes – I will."  Then she turned around and went inside the house and closed the door.
Left me standing there stammering and muttering in disbelief.
God opened the door of my heart with love.
When I opened my heart enough for Gloria, Jesus came knocking.  Sure enough, not too long after that, I let Him in."
God called Kenneth to Ministry in 1967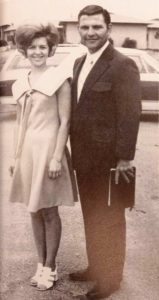 Having given his life to Jesus in 1962 in his living room in North Little Rock, Arkansas, the Lord told Kenneth to attend Oral Roberts University.  It took him 3 years to obey God and in 1966 he and Gloria packed up and moved to Tulsa, where Kenneth studied at ORU and got a job as a member of Oral Roberts flight crew. 
Not long after that Kenneth had a conversation with God that birthed Kenneth Copeland Ministries.  Kenneth recalls, "March of 1967 was a turning point in my life.  I was learning so much at ORU traveling with Brother Roberts, going to classes during the day and listening to Brother Hagin's tapes at night.  I was watching Brother Roberts do by faith what I was hearing in Brother Hagin teach.
I came home from school one afternoon so agitated in my spirit that I knew I had to be alone with God.  I had known all day that He was trying to say something to me.  Our house was only a block from the Arkansas River bed, so I went down there to pray and to listen.
I don't know what I was expecting, but it wasn't what I heard.  I hadn't known God long enough back then to understand that He always thinks big.
He told me exactly what He was calling me to do.  He was calling me to preach the gospel to the nations.  In fact, He said in the last days, nations would be won in a day (some of them even by this ministry).
There I was, as poor as a field mouse, driving an old Oldsmobile in need of a miracle, living in a little rent house – and I was called to the nations.  He spoke to me for about two hours that afternoon.  He commissioned me into this ministry."
And the rest, as they say, is history…
Now unto Him that is able to do exceeding abundantly beyond all we ask or think, according to the power that works in us.
To Him be glory in the church and in Christ Jesus to all generations forever and ever.
Amen
---