"How God anointed Jesus of Nazareth with the Holy Spirit and with power, who went about doing good and healing all who were oppressed by the devil, for God was with Him." – Acts 10:38, Modern English Version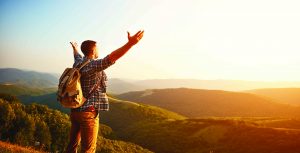 What was Peter preaching? He was preaching the Christ to all those assembled at the home of Cornelius, the centurion. The Christ means "Anointed One." Peter preached the Anointed One and His Anointing to those people. As they received the truth of his words, the Holy Spirit fell on them, and all began speaking with tongues and magnifying God (Acts 10:44-46).
That same Anointing delivers people today from sickness, disease, drugs, alcohol, pornography, fear, worry, and anything else with which the devil has been oppressing them. Jesus, the Anointed One of God, annihilated the devil and his power to hold us in bondage. Colossians 2:15 says of satan's utter defeat in the regions of the damned at the hands of Jesus: "And having spoiled principalities and powers, he made a shew of them openly, triumphing over them in it" (King James Version).
All fear has torment. Fear of death is the master fear (Hebrews 2:15). Second Timothy 1:7 says you have not been given a spirit of fear, but when you were born of the Spirit, you were given a "spirit of… power, and of love, and of a sound mind" (King James Version). Listen to the world around you, and almost all you hear is fear. That's what terrorism is. It's an organized form of oppression that uses fear as a weapon. Its goal is to terrify to the point that a person or a people cannot resist. The definition of oppression explains the use of terror as a weapon or tactic. It is the spoiling or taking away of men's goods or estates by terror or force without having any right to it, using the ignorance, weakness, or fearfulness of the oppressed.
Now we can better understand Acts 10:38. We, the Body of Christ, with the power of the Holy Spirit living in us, must be the ones standing tall in the midst of situations all around us that attempt to bring fear and oppression. We have been given The WORD of God, and Ephesians 6:10 says we're strong in Him and in the power of His might. We've been delivered from fear. Hebrews 2:14-15 says, "So then, as the children share in flesh and blood. He likewise took part in these, so that through death He might destroy him who has the power of death, that is, the devil, and deliver those who through fear of death were throughout their lives subject to bondage.
All worry, phobias, etc., stem from the fear of death. You can see from these verses we have been delivered from the source of terror and its oppression. We are no longer subject to it. In fact, we have been set free from the spiritual laws that govern sin and death. Romans 8:2 makes that clear: "For the law of the Spirit of life in Christ Jesus has set me free from the law of sin and death." Terror and its effects cannot work on us if we'll take a strong stand, in the Name of Jesus, on The WORD of God, in the blood of our righteous covenant. Jesus had no fear, and because you are born of Him, neither should you.
Fear is a spirit and must be cast out. Perfected love casts out all fear. We have been given the gift of love-God is love (1 John 4:8). Since He has given us the spirit of power, love, and a sound mind, a fear-filled mind is not a sound mind. Read the whole book of 1 John over and over until the revelation of God's love causes your cup to overflow. When a fearful thought or situation comes up, say out loud, "That's under the curse, and I'm redeemed from the curse of the law (Galatians 3:13). I'm redeemed from fear. I refuse to fear. Thank You, LORD, that I have the spirit of power and love and a sound mind. The peace of God that passes all understanding guards my heart and my mind through Christ Jesus (Philippians 4:7)." When you submit yourself to God, believe the love God has for you (1 John 4:16), and resist the devil and his fear, James 4:7 says he must flee from you!
The Kenneth Copeland Word of Faith Study Bible © 2017 by Kenneth Copeland
---
Our Prayer Team are ready to pray with you Monday – Friday, 09h00 – 16h20 (UK time), or send in your prayer requests here.