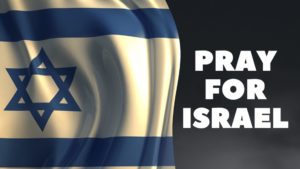 Please join KCM Europe as we pray for Israel at this time. The Word of God states,
Pray for the peace of Jerusalem: "May they prosper who love you. Peace be within your walls, Prosperity within your palaces."  For the sake of my brethren and companions, I will now say, "Peace be within you." Because of the house of the LORD our God I will seek your good. (Psalm 122:6-9 NKJV)
Our God is a covenant-keeping God, who is the same yesterday, today and forever! We are in agreement with His Word because He does not change. We can therefore boldly declare that the" Peace of God will be within Jerusalem,"  and that " no weapon formed against Israel shall prosper" because this is the will of God concerning His covenanted people.
No weapon formed against you shall prosper, And every tongue which rises against you in judgment You shall condemn. This is the heritage of the servants of the LORD, And their righteousness is from Me," Says the LORD. (Isaiah 54:17 NKJV)
Subscribe to Kenneth Copeland Ministries Europe on You-Tube.
---
Helping Israel
All of the financial seed to KCM Relief Fund donated between 6th October until 30th November 2023 was used to assist those living in devastated areas. Any donations made after this date will be used by KCM Europe to support community outreaches and respond to natural or man-made disasters around the world by partnering with other ministries and Partners on the ground.
By partnering with us, your charitable giving will help provide food, clothing and financial assistance in times of adversity.
Relief Fund Donation