---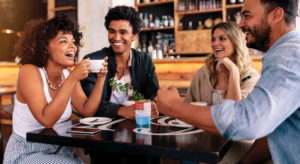 We live in exciting days. The Church, the Body of Christ (the Anointed) is going to see walls of racism crumble by His anointing. Years of bitterness will be thrown aside as black, white, brown, yellow and red—all brothers and sisters in Jesus—step into unity with one another.
Do not be distracted that at the same time we are doing this, there is going to be a resurgence of racism among those who are still in darkness. Do not be surprised that the flames of hatred and division flare with renewed heat among them. Do not react to them and do not get caught up in their bitterness and division.
Among those who have not discovered this yet, things are certainly getting darker and darker. But do not look at what's going on in the world. Check out what is happening in the Church. There are seven things we need to understand to overcome the racism and prejudice that is in the world today.
---
1. What we are fighting is not just racism, but a spirit of division.
There is something greater in the land than the colour of our skin, whether we are male or female, or what our denomination or our politics are. It is the outpouring of the Holy Ghost in the last of the Last Days!
This is what has the enemy scared. It is why he is trying to cause not only racial division, but any kind of division he can to weaken the Body of Christ. He is trying to separate us, weaken us and steal the supernatural power of God from among us to stop the outpouring of God's glory that has begun in the Church.
Satan's tactic will not work this time. The Church is going to put division under our feet. Notice that I said we are going to put division — not prejudice — under our feet. Prejudice is a term coined by the world. The Bible uses the term division.
2. Our differences will strengthen, not divide us.
What Satan is trying to do is turn differences into barriers of hate and fear to separate us. He knows that "if a house be divided against itself, that house cannot stand" (Mark 3:25). If that barrier is race, we call it racism. If it is based on gender, we call it sexism. But division goes far beyond colour and gender. It divides parents and children, brothers and sisters, Baptists and Methodists.
Do we have differences? Of course. Some people try to eliminate divisions by ignoring differences and pretending we are all the same. But we are not the same!
Satan magnifies our differences with a spirit of hate, but God magnifies our differences in the spirit of love. Where I am weak you can be strong for me. Where I am strong I can help you in your weakness. Our differences are to draw us together rather than drive us apart. We each need the strength and anointing He has given the other.
3. We can appreciate our heritage without joining in division.
You may have to be around people who are still bound up in racial hatred or division over other issues. Although you can not join in fellowship with their bitterness and division, you do not have to reject association with those who share with you a similar heritage and strengths.
Show them that their strengths are given to build up the Body of Christ. Demonstrate love and forgiveness before them. Show them that who a man or woman is in Christ is much more than what race, sex, country, educational or economic level he or she was born into. Pray that in Christ they will see there are no limits to what they can become.
4. There are only two races on this earth.
In one race are those who remain in the power or kingdom of darkness. In the other race are those He has placed into the kingdom of his Son (Colossians 1:12-13). God sees only who is saved and who is lost. And He is no respecter of persons (Acts 10:34-35). This is what the Bible is talking about when it says to not be unequally yoked in marriage (2 Corinthians 6:14). Being unequally yoked in marriage is someone who is spiritually alive marrying someone who is spiritually dead.
5. We see each other according to the spirit, not the flesh.
In God's eyes, those who are saved become one body "in Christ." When we receive Jesus Christ, we are legally family. It does not matter what nationality you are, because God is looking at your heart, not your skin. Therefore, we are to practice "forbearing one another in love; endeavouring to keep the unity of the Spirit in the bond of peace" (Ephesians 4:2-4). As believers, we no longer see or judge others by their race, gender, occupation, social or political status (Galatians 3:26-29). We see no man after the flesh, but whether he is in Christ or not (2 Corinthians 5:16-17).
God has something in store for the Body of Christ in this day that is the most awesome revelation that has ever hit this earth. It is the full revelation of God Himself. Paul prayed about that revelation, saying:
"For this cause I bow my knees unto the Father of our Lord Jesus Christ, Of whom the whole family in heaven and earth is named, That he would grant you, according to the riches of his glory, to be strengthened with might by his Spirit in the inner man; That Christ may dwell in your hearts by faith; that ye, being rooted and grounded in love, May be able to comprehend with all saints what is the breadth, and length, and depth, and height; And to know the love of Christ, which passeth knowledge, that ye might be filled with all the fulness of God" (Ephesians 3:14-19).
Only those who will come together in agreement and unity with no division — "with all saints" — will be given the complete depth of understanding of the love of Christ, and be filled with all the fulness of God. We will only get it when we get together.
6. Our only identity is children of the covenant.
We were created to be people born of the Spirit, walking in faith and receiving all that God has promised us. Some people are concerned about identity. But we find our identity in Christ. Our identity is with our covenant, it is with our spiritual inheritance. We are covenant people bound by blood to Almighty God and to every other believer on earth. We have a new heritage.
One of those promises is that no weapon formed against you will prosper (Isaiah 54:17). That does not say no weapon of racism or division will be formed against you. It says when they are formed against you, they will not prosper. In other words, they will be unable to harm you.
7. We refuse to be offended.
The racism or bigotry of another person can only hurt you and cause you problems if you allow it. It can only damage you if you choose to take offence. Getting offended is exactly what the devil wants you to do. Mark 4:17 says offence is what he uses to steal the Word from our hearts. And if he can use offence to divide you from the people who have mistreated you, he can prevent you from receiving any fresh revelation from God.
This is what happened at Corinth (1 Corinthians 2:14; 3:1-3). Strife and division had reduced these Christians to the understanding level of unsaved people. Do not trade your ability to understand spiritual things for the right to get mad at some person who tells racist jokes or treats you poorly because of the color of your skin.
Let the glory of God swallow up the spirit of division around you. Move by faith and joy and refuse to take offence. Say "Glory to God, what do I care if somebody mistreats me? I know I'm the righteousness of God. I know God is with me, so what can man do to me? Greater is He that is in me than he that is in the world."

If you will take on that attitude of faith, it will not matter what colour your skin is or what side of town you come from, you can live a life of blessing and power.
---