---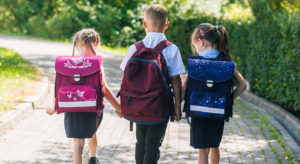 ---
Some children have been away from school or college for weeks this year and going back to a normal school day routine may be challenging, not just for children and young adults but for parents as well. With the additional upheavals of 2020, this is especially challenging for some families and teachers who worry about their safety and security and the safety and security of their children with returning to school.
However, God is interested in every aspect of your life. He desires the very best for you. He sent Jesus to the cross on your behalf so that you might have life and have it more abundantly (John 10:10). Jesus is the friend that sticks closer than a brother. He has promised to never leave you nor forsake you. When we have to do something which we are unsure about it can make us think that we cannot do it and that leads to fearful thoughts that are not from God.
Ephesians 6:10 states, "Be strong IN THE LORD and in the power of His might." There is no reason for you as a born-again Christian to listen to or entertain the lies of the devil. You have been delivered from Satan's authority and translated into the kingdom of God's dear Son. Satan is not your god. Jesus is your Lord!
You and your children can return to school knowing that the Holy Spirit is with you and He will prepare a pathway of peace before you. The Lord has angels charged to protect you and you can draw on the wisdom and understanding of God to catch up on any work that you may have missed. You can be sure that Jesus will be with you all day all week and all of your life. You are BLESSED!
Start your day with this prayer:
Lord Jesus
Thank you Lord that you are with me today and that you give me strength and courage to go joyfully to my school. I thank you Lord that your Word says "All thy children shall be taught of the Lord; and great shall be the peace of thy children"(Isaiah 54:13). I am filled with your peace, I am filled with your joy, I am filled with your wisdom and understanding. Your Holy Spirit will reveal all knowledge to me and I will excel in my studies just as Daniel did in your word. Lord help me to be a BLESSING to others today and fill me with your boldness in Jesus mighty Name.
Amen
---