"For all of you who were baptized into Christ [into a spiritual union with the Christ, the Anointed] have clothed yourselves with Christ [that is, you have taken on His characteristics and values]" - Galatians 3:27

Have you ever looked inside your wardrobe and thought, what should I wear today? Well, God knows what you need, even before you ask him - He invented clothes!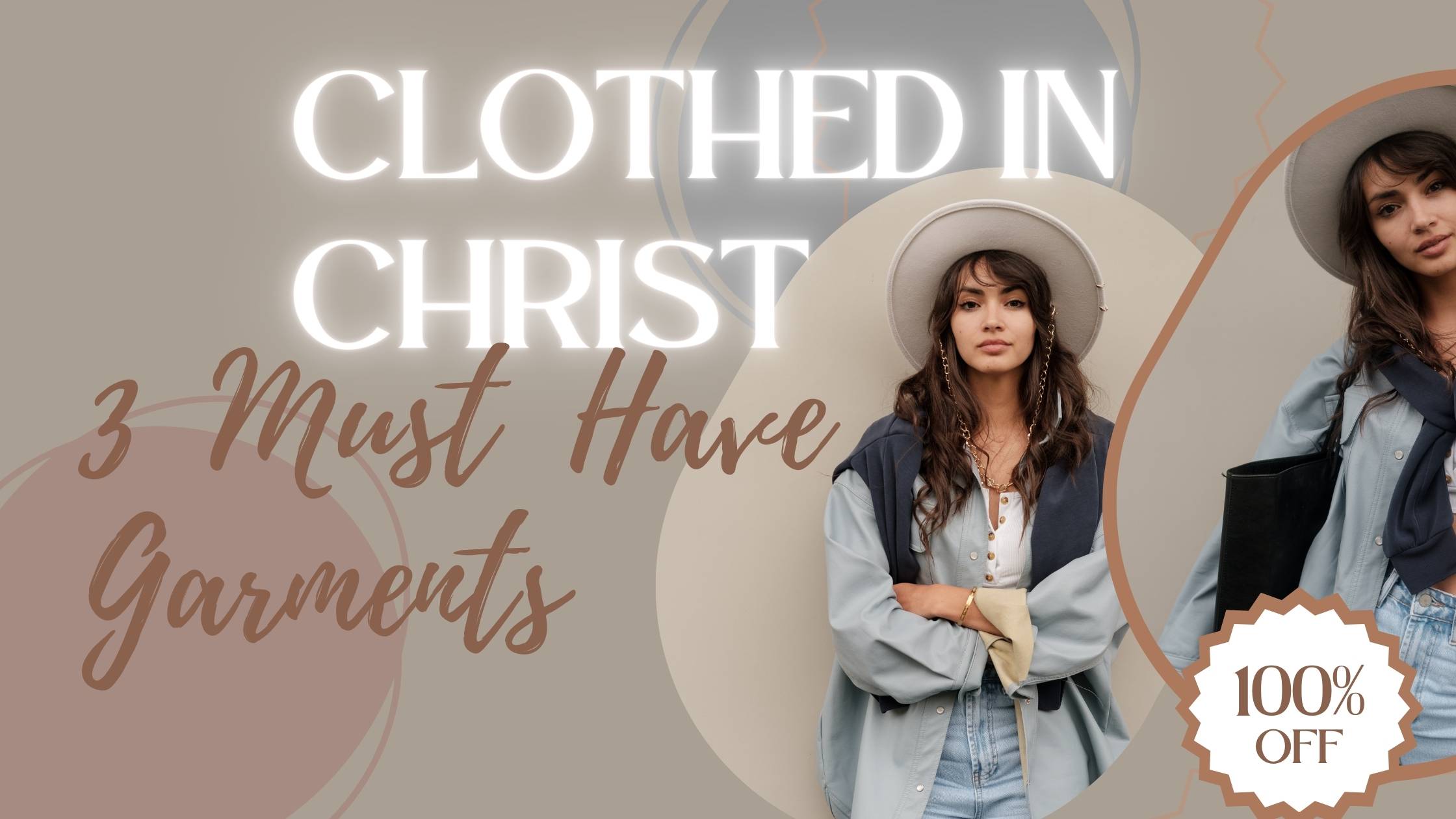 The Believer's Wardrobe
Whilst Joseph had a coat of many colours that represented him being his father's favourite, the prodigal son was given a robe by his father on his return home. The prodigal's robe was the best in the household and represented him being accepted and re-instated as the heir. Luke 15:21-22
The most important clothing we require as believers is the clothing of Christ. This is a spiritual wardrobe that never fades, it never wears out and always looks good! Clothing ourselves with Christ means that we put on his characteristics and values, which is why they are such precious garments. Through Christ, God has given us supernatural clothing that we cannot earn or pay for because the price has already been paid on the cross. Just as the father of the prodigal son gave the best robe, we have been given God's best gift through his son Jesus Christ.
So, what are these spiritual clothes or garments? Let's go to The Word to select three of the "must have" Christ garments to wear this season.
1. A Robe of Righteousness
"He has covered me with a robe of righteousness, As a bridegroom puts on a turban, And as a bride adorns herself with her jewels" – Isaiah 61:10.
Kenneth Copeland said it like this, "Righteousness is the ability to standing in the presence of the Father without a sense of guilt, condemnation inferiority – as though sin had never existed. If you can believe that you are saved, you can believe you are the righteousness of God."
Praise God! Being clothed in Christ means that we can go to our Heavenly Father without guilt and walk in the freedom that he has given us. It's worth noticing that the prodigal son had to go back to his family home, after he realized that he was living beneath his family privileges. This is exactly what has happened for us when we accepted Jesus as Lord. We were re-instated as part of the family of God.
2. Garments of Salvation
"I will rejoice greatly in the LORD, My soul will exult in my God; For He has clothed me with garments of salvation" –  Isaiah 61:10
Everything that Jesus did for us on the cross has become a garment that we can wear with confidence. Love, Peace, Joy, Healing , Deliverance, Forgiveness, Protection, Prosperity… I like to think of the salvation garments as a capsule wardrobe – equally important and fitting for every occasion and situation!
3. The Garment of Praise
"To console those who mourn in Zion, To give them beauty for ashes, The oil of joy for mourning, The garment of praise for the spirit of heaviness; That they may be called trees of righteousness, The planting of the LORD, that He may be glorified" – Isaiah 61:3
Praise is how we enter the presence of God. The Psalms declare the praises made to God by his people over and over again The book of Revelation gives us a glimpse of the magnitude of praise that takes place in Heaven, with the account of ten thousand times ten thousand angels worshipping God. Praise is also a weapon in the book of Jericho, which brought down the walls of the city. The Word tells us that God inhabits the praises of his people. This means that the garment of praise is not only a spiritual weapon but it is also a key aspect of our relationship with Jesus. Praise God!
That's not all – our spiritual clothing carries authority. This is no different to a police or military uniform which represent different levels of authority. The police have the power to give instructions because they have been given the legal authority to do so. Similarly, if a Spirit-filled, born-again believer, clothed in Christ, commands the devil to cease and desist his maneuvers, according to The Word – then that is exactly what the devil will do! This is the authority of the believer. In fact, Ephesians 6:4-17 describes the clothing of a believer as an armour that we are instructed to "put on" in order to be effective in our spiritual battles.
Good news! We no longer need to check if we have the correct clothing in our spiritual wardrobes. We can clothe ourselves with Christ and live in victory, by taking God's Word as final authority in our lives.
Memory Verses
I am the righteousness of God in Christ Jesus- I have a robe of righteousness.
I am clothed with the garments of salvation- Hallelujah!
Today, I put on the garment of praise, that He may be glorified!