"After this manner therefore pray ye: Our Father which art in heaven, Hallowed be thy name. Thy kingdom come, Thy will be done in earth, as it is in heaven. Give us this day our daily bread." (Matthew 6: 9-11 KJV)

We see that the Lord was teaching the disciples to pray and He said; In this manner, in this pattern, or in this way, pray. Firstly we honour our Father in heaven and we honour His Name, then we are in a sense consecrating ourselves saying; Your Will be done, not my will, and Your Kingdom come, not my kingdom or agenda but Yours Lord, be done on earth as it is in Heaven. The Lord then says to pray; Give us this day our daily bread.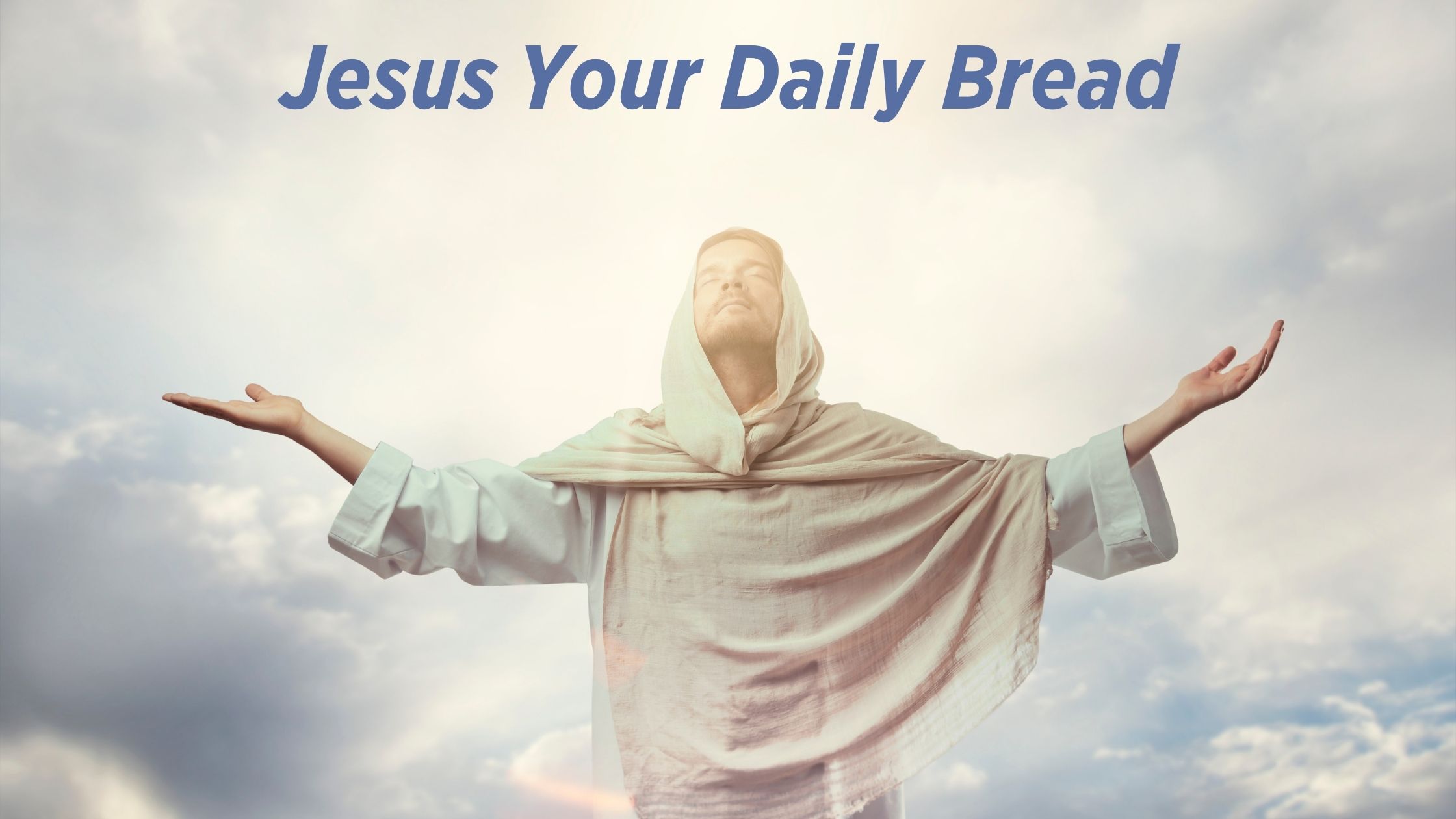 Jesus is our daily Bread
When Jesus taught the disciples this pattern of prayer, He didn't say; pray this and maybe your Father in Heaven might answer. No, He fully expected that God was going to answer this prayer!
Notice that Jesus said this day, not tomorrow or some hopeful day in the future, this day. God wants to minister to you and me this day! And He also says; give us this day our DAILY bread…. What do you need for the day?  Did He say daily scraps, daily rations?  No, your daily bread, God wants to meet your need spirit, soul, body, financially, socially, every day so that you are enriched in everything and are bountiful for good works (2 Corinthians 9:11)
Now, we understand that there may be challenging seasons in our lives, but that does not take away from the fact that the Lord wants to meet your needs daily. We also need to discern just like Elijah that when the brook dries up and the ravens stop dropping those T-bone steaks that it could be a season of shifting or moving?
So lets look at 3 areas of receiving our daily bread.
No 1. Our spiritual lives
Jesus, when He was being tempted in the desert, quoted Deuteronomy 8:3 to the devil and said that man shall not live by bread alone but by every Word that proceeds out of the mouth of God. We are to live everyday by the Word of God!
God wants us to feast daily on His Word! The Word of God is our bread, our milk, our meat – the nourishment for our spirit man and the transforming power of our souls.
Are you being filled daily? Who is limiting your intake or receiving from the Word? Not God.
Are you only eating fast food, or are you having a good wholesome meal of the Word? You might say what do you mean by fast food? Sometimes we may fall into the trap of routine and religious duty, where we know we should read the bible and so we skim through a chapter, close the book, and tick the box that we have read the Word.
But what did you get? What did the Lord minister to you in the scriptures that you read? Did you grow in understanding? Remember in Matthew 7 the Lord Jesus said the measure you use, that it would be measured back to you. What "measure" are you using when you read the Word? The nutritional value you receive from God's Word is up to you.
What else are you putting in your heart? Keep thy heart with all diligence; for out of it are the issues of life (Proverbs 4:23).  Some translations say out of the heart flows the springs of life or from it flows the course of your life. Proverbs 23:7  tells us that as a man thinks in his heart so is he and Jesus tells us that out of the abundance of the heart, your mouth speaks (Matthew 12:34)
The way your heart flows is the way your life goes, so protect your heart.
As newborn babes, desire the sincere milk of the word, that ye may grow thereby (1 Peter 2:2). The apostle Peter tells us to desire the milk of the Word. Desire is not a neutral word, it is not a take it or leave it word. Desire is a passionate word, it is a "hungry" word, a word of action and this is how Peter says our hearts should be for the Word. And then he says that we may grow thereby. God's desire is that as we consume the Word, we are going to grow and mature thereby.
 For when for the time ye ought to be teachers, ye have need that one teach you again which be the first principles of the oracles of God; and are become such as have need of milk, and not of strong meat (Hebrews 5:12). Here we see that the Hebrew believers stopped growing, they let go of the Word they were taught and backslid back into babyhood. This is a warning to us not to do the same thing! For every one that useth milk is unskilful in the word of righteousness: for he is a babe. But strong meat belongeth to them that are of full age, even those who by reason of use have their senses exercised to discern both good and evil (Hebrews 5:13-14). In the centre column of some bibles, an alternative translation would be "who by of a habit have their senses exercised…."
A key to growth is making the Word of God your "habit", by continually reading and meditating on the Word you begin to think Word, to grow and have your senses trained to discern.
No.2  The Daily Bread For Our Natural Lives
Father God wants you and me to have everything we need for day-to-day living, in Matthew 6:8 the Lord told us that our Father knows what we have need of even before we ask. God wants us to have all the resources we need, but He does not want us to be controlled or consumed with chasing after "stuff".
Therefore take no thought, saying, What shall we eat? or, What shall we drink? or, Wherewithal shall we be clothed? (For after all these things do the Gentiles seek:) for your heavenly Father knoweth that ye have need of all these things. But seek ye first the kingdom of God, and his righteousness; and all these things shall be added unto you. (Matthew 6:31-33 KJV)
We see that the Lord in the last half of the chapter of Matthew 6 tells us to have our hearts fixed on heaven. To not have eyes that look at the Lord and also want to look longingly at the things of the world, we cannot serve two masters. But Jesus encourages us not to worry about our material needs as our Father in Heaven knows we need these things. In verse 32 & 33, He says don't be like the world that chases after these things, fix your heart and gaze on the Kingdom of God and His righteousness and He, the Father will add to you all these things.
No.3 Daily Bread For Our Healing
God wants to minister to us everyday healing, vitality and life to the total man.
Then Jesus went thence, and departed into the coasts of Tyre and Sidon. And, behold, a woman of Canaan came out of the same coasts, and cried unto him, saying, Have mercy on me, O Lord, thou son of David; my daughter is grievously vexed with a devil. But he answered her not a word. And His disciples came and besought Him, saying, Send her away; for she crieth after us. But He answered and said, I am not sent but unto the lost sheep of the house of Israel. Then came she and worshipped Him, saying, Lord, help me. But He answered and said, It is not meet to take the children's bread, and to cast it to dogs. And she said, Truth, Lord: yet the dogs eat of the crumbs which fall from their masters' table. Then Jesus answered and said unto her, O woman, great is thy faith: be it unto thee even as thou wilt. And her daughter was made whole from that very hour. (Matthew 15:21-28 KJV)
Here we see Jesus calling healing and deliverance the children's bread. Who are we? If you are born again, then you are a child of God and healing and deliverance is your bread! It is your birth right in Christ, praise God. We know that when Jesus went to the cross, that part of what He did was to pay the price for your and my healing: By His stripes you were healed (1 Peter 2:24)  Healing is your daily Bread!
This message was shared by Michael Ellis at a Partners Communion event. 
---
If you would like to grow even more in the Word, we have a variety of  FREE study courses and online resources to suit your needs. Choose from different topics and let us help you learn, grow, overcome and walk in VICTORY in every area of life.