In the recent KCM Newsletter, there was a timeline of Kenneth Copeland Ministries in Europe. As I focused in on the beginnings of the ministry in Germany, I found myself reflecting on the fascinating beginnings of KCM, Germany. How did it all begin?

In the early 80's our ministry in Germany was growing, we came in contact with the ministry of Kenneth and Gloria through a book and a tape from Kenneth Copeland, not even knowing who he was, but he got my attention.

Having recently graduated from seminary I had a great love and respect for the accuracy and authority of God's word and that's what this man, Kenneth Copeland also had.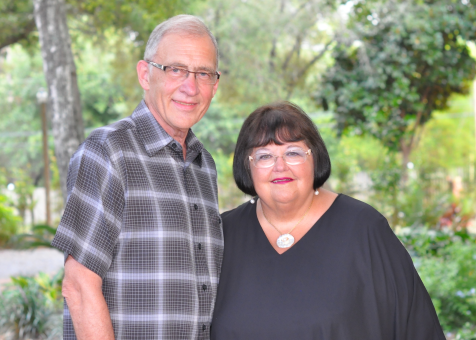 Over the next few years, we attended the Victory campaigns in Brighton and Bournemouth, sitting way in the back at first, just playing it safe, wanting to check it out for ourselves.  As we heard, Kenneth and Gloria as well as Jerry Savelle, teach, we soon became convinced that this teaching was strongly rooted in the word of God.
I bought the tapes, transcribed them so I could better study what was taught and soon was able to teach this to the people God had entrusted to us in our ministry.  People's lives were changed!  We all grew in the understanding and practice of great teachings of the righteousness of God, of the love of God, of the blood covenant and in living by faith.
During those years of learning and growing in the understanding of these teachings, we got to know some of the personnel involved in KCM Europe such as European Director Martin Hawkins in Bath, England. We were approached and asked if we, with our church, would take on the responsibility of translating the BVOV into the German language.
In 2002 the first German BVOV was published.  In 2008 we planned and organized the Victory Campaign in Basel, Switzerland.  Then in 2011 the first German BVOV broadcast was aired.  Soon after these major events, the German KCM website was built, and the online bible school was made available.
Reflecting on these events on the timeline, I saw the hand of God at work putting this all together with the result that so many people were helped through this teaching and the body of Christ in Germany was strengthened.
I personally thank God for the ministry of Kenneth and Gloria in our personal lives in deepening our relationship with our heavenly Father and Jesus Christ.
Written by Allen Veer, Founding Pastor Open Door Church Lörrach, Vice President KCM e.V. Germany
---
Get updates about the latest teachings, gifts, offers and events from Kenneth Copeland Ministries Europe delivered to your Inbox every week.