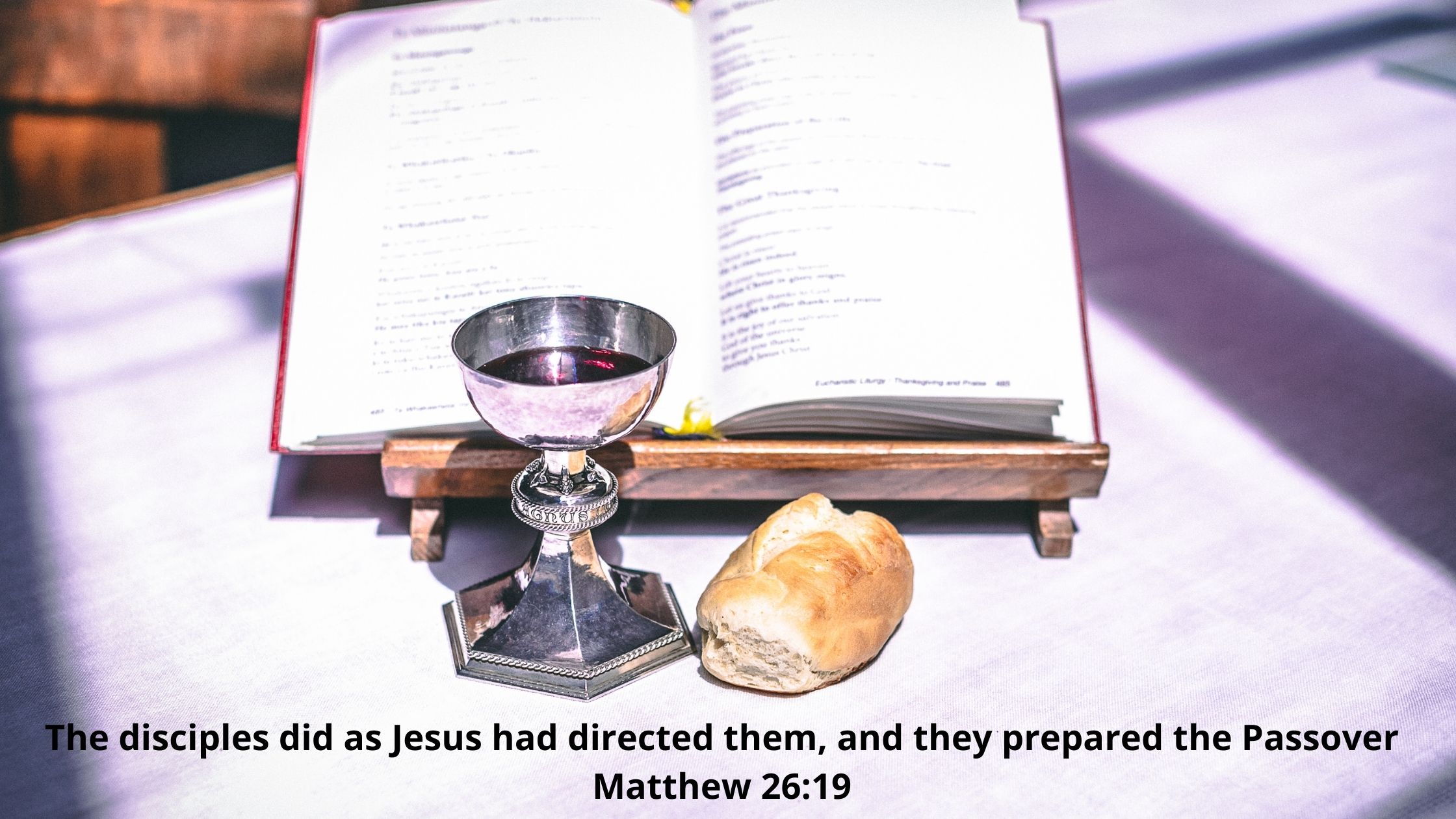 Then the Day of Unleavened Bread came, when the Passover lamb must be killed.  He sent Peter and John, saying, "Go and prepare the Passover for us to eat it." (Luke 22:7-8 MEV)
In the above passage, Jesus sent Peter and John to prepare the table for Him and the disciples to partake of the last supper together.
Have you ever considered that the communion table has already been prepared for us? That Jesus Himself has prepared the table?
The communion table is an emblem of Jesus' sacrifice. The table that we speak of is placed before us in the presence of our enemies, and peace, forgiveness and healing are there for us to receive as we share in the meal. The table is ready and waiting for you and I to sit down at it and join Jesus.
When we gather around the communion table, he takes pleasure in sitting with us. So, we sit together with the King of Kings and Lord of Lords. We gather around the table of acceptance.
We Were On His Mind
When Jesus sat around the table with His disciples, we were on His mind.  He was teaching us how to partake of the last supper with Him.
'And he took bread, gave thanks and broke it, and gave it to them, saying, "This is my body given for you; do this in remembrance of me."'
In the same way, after the supper he took the cup, saying, "This cup is the new covenant in my blood, which is poured out for you. (Luke 22:19-20 MEV)
When we receive Communion, we are receiving His body and His blood.
This is what we, at KCM Europe, do every month with our Partners via zoom, on the first Thursday of the month.  At our last meeting 168 households throughout 12 nations joined us in communion. The nations represented were: UK, Belgium, Netherlands, Denmark, France, Ireland, United Arad Emirates, Italy, Germany, Norway, Sweden, and Austria.
Settle It At The Table
In Kenneth's mini book How to Receive Communion, he writes,
"God instituted the Lord's Supper for a reason. When you receive it, you should be ready to partake of everything Jesus' sacrifice provided—salvation, peace of mind, healing, total prosperity."
 "If you're facing something today that, in the natural, looks overwhelming, go to the table. Whether it's cancer, a serious financial need or direction you're needing, settle it in the blood of Jesus. Settle it at the Communion table."
For more about Communion, here is Kenneth Copeland's mini book – How to Receive Communion
Scripture Reading
Let us look to Jesus, the author and finisher of our faith, who for the joy that was set before Him endured the cross, despising the shame, and is seated at the right hand of the throne of God. (Hebrews 12:2 MEV)
But he was wounded for our transgressions,
    he was bruised for our iniquities;
the chastisement of our peace was upon him,
    and by his stripes we are healed.
(Isaiah 53:5 MEV)
Subscribe to Kenneth Copeland Ministries Europe on You-Tube.
Join Us At The Table
We take communion with our partners every month.
If you are a partner and would like to join, please contact us to receive the details. You can email us at partners@kcm.org.uk
If you are not yet a Partner but would like to become one, please use this form to sow a seed of any amount and let us know how you would like to receive the Partner Letter and the Believer's Voice of VICTORY magazine each month.