Pastor Solomon Aroboto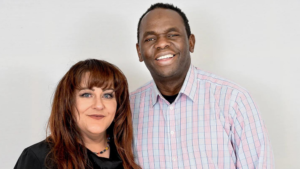 First and foremost I want to say a big congratulations to KCM Europe for the exploits and impact of Kenneth Copeland Ministries in Europe, in my life, family and ministry.
My success today is a by-product of the faith teachings received from KCM.
I became a registered partner with KCM in 2004 after I moved to Ireland from Nigeria. Prior to that I had always listened to Kenneth and Gloria for years.
Unlike Nigeria, I did not readily come across word of faith people in Ireland so I began to research if KCM had an office in Ireland or somewhere nearby, then I came across the UK office.
I knew partnership with KCM would strengthen me and my ministry and make my journey of faith better and resilient and it did and still does.
Through their teaching and encouragement I constantly receive from KCM, our ministry has grown and we recently purchased our own church building debt free and I am grateful for the partnership.
KCM ministry has enabled our ministry and members of our church  to develop faith for limitless possibilities.
Believing God for the impossible has now become normal with most of our church members, who were brought up in traditional churches.
A big Thank You to KCM Europe for your consistent commitment to bringing the word of faith.