I Have You In My Heart
"Years ago, God called me to write a letter to my Partners every 30 days for the rest of my life on this earth. He called me to pray in the Holy Spirit until I receive an anointed letter that will encourage and strengthen them in their daily faith walk.

 It was one of the most powerful things I've ever done, and I began to discover what Paul meant when he wrote to his partners, "I have you in my heart, I'm interceding for you and I will not let you fail!" – Kenneth Copeland
It was Oral Roberts who pointed Kenneth Copeland to a deeper revelation of the covenant partner relationship when he held up his Bible and exclaimed, "Those are letters!"
Upon hearing those words, the revelation flashed through Brother Copeland's spirit like a bolt of lightning as he realised: The New Testament is mostly letters from the Apostle Paul to his partners in the churches at Ephesus, Philippi, Galatia, Corinth, Rome, Colossae and Thessalonica—letters written to encourage them and help them overcome every obstacle!
Make Partners Your No.1 Priority
When the Lord instructed him to make his Partners his No. 1 priority, one of the first things Brother Copeland did was to sit down and write them a letter. And since penning that first letter in February 1986, Brother Copeland has faithfully fulfilled his commitment to write a Partner letter every 30 days, year in and year out.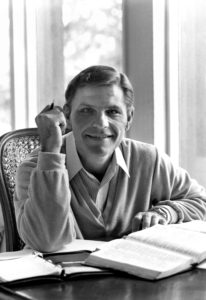 Today, the Partner Letter is one of the most important ministry tools that extends from Kenneth Copeland Ministries. Each month, Brother Copeland prays in the spirit about what to share with his Partners—seeking the Lord for a word that will encourage and strengthen them in their daily faith walk.
"Each (letter) represents hours upon hours of prayer on my part," Brother Copeland says. "Through them I share personally the things the Lord is teaching me. And my heart's desire is that they will strengthen and encourage all who receive them."
Letters Are a Powerful Tool In God's Hands
God is truly changing lives through these letters, and each month as they are sent out to our Partners and Friends all over the world, they are indeed serving as a source of strength for many. We receive thousands of testimonies from around the world—amazing stories of salvation, healing, deliverance, restoration and increase.
Throughout the years, we have seen that partnership is indeed dynamic. But partnership is not a one-sided relationship. By definition, partnership means "to take a part in".  As the Apostle Paul said, "I thank my God upon every remembrance of you, for your fellowship in the gospel from the first day until now…because I have you in my heart; in as much as both in my bonds, and in the defence and confirmation of the gospel, ye all are partakers of my grace" (Philippians 1:3, 5, 7).
The Partner Letter Brother Copeland writes each month is very dear to his heart, because his Partners are dear to his heart! And because of his commitment to the Lord to never stop writing them, the connection between you, our Partners and Friends, and Brother Copeland will never be broken.
Read more about Partnership or Partner with Kenneth Copeland Ministries Europe if you feel led to do so.