---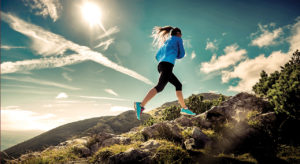 ---
You can be free from fear! Fear is a part of the curse (Deuteronomy 28:66) and Jesus has already paid the price to redeem you from it. "Christ hath redeemed us from the curse of the law, being made a curse for us…That the blessing of Abraham might come on the Gentiles through Jesus Christ, that we might receive the promise of the Spirit through faith" (Galatians 3:13-14). Through Jesus you are in position to receive the blessings and not the curses listed in Deuteronomy 28, 15-68.
On the cross He paid the price to set you totally free, "Inasmuch then as the children have partaken of flesh and blood, He Himself likewise shared in the same, that through death He might destroy him who had the power of death, that is, the devil, and release those who through fear of death were all their lifetime subject to bondage" (Hebrews 2:14-15, New King James Version). By breaking Satan's authority over you, Jesus provided deliverance from fear. However, to experience your freedom, you must decide to act on faith in God and not to act on fear. In other words, thoughts of fear may come, but you do not have to act on them.
Generally speaking, most people have been trained from childhood how to meditate, speak and act through fear. Even if someone did cast out the spirit of fear (Mark 16:17), the training would still be there. It would not be long before they would fall back into it. This is why it is of utmost importance to train ourselves to respond only to faith in the Word of God (Romans 12:2).
Faith and fear are two opposite spiritual forces. Fear is faith perverted. Fear activates Satan the way faith activates God. Satan cannot do anything to you apart from and separate from fear, any more than God can do anything for you apart from or separate from faith (Hebrews 11:6).
The Bible says, "…he that feareth is not made perfect in love" (1 John 4:18). The word "perfect" in this scripture means: allowed to run its full course. In other words, a person who has an ongoing problem with fear has not allowed God's love to run its full course in him. He is still acting on the old training based on fear. But when a person is fully persuaded of God's love and has allowed His love to run its full course in them, fear will not stay. "But perfect love casts out fear" (1 John 4:18). "For God hath not given us the spirit of fear, but of power, and of love, and of a sound mind (2 Timothy 1:7).
When you act on the Word of God continually, you allow the love of God to run its full course in you. 1 John 2:5 says, "…whoever keeps His word, truly the love of God is perfected in him." The love of God becomes the shield of faith that protects you and the wicked one cannot touch you (1 John 5:18). Make a quality decision to wage a good warfare against fear:
Believe the love God has for you.
Walk in the love of God towards others by obeying and acting on the Word continually.
When thoughts of fear come to you, cast them down immediately and quickly harness your thinking to line up with the Word of God. Philippians 4:8 tells you the type of thoughts you should meditate on continually. The weapons of your warfare are mighty through God to the pulling down of the stronghold of fear (2 Corinthians 10:4-5).
For further study, look up and meditate on the following scriptures used for this prayer: 2 Corinthians 5:7; Psalm 118:6; Isaiah 54:17; Psalm 91:1 (The Amplified Bible); Romans 10:17; Job 1:10; Isaiah 32:17-18 (The Amplified Bible); Psalm 34:7, Psalm 91:11; Philippians 4:7.
---
If you would like one of our trained Prayer ministers to pray with you today, fill in our online from or call our office on +44 (0)1225 787310.  We are open Monday – Friday, 09:00 – 16:20.
Remember, God loves you, we love you and JESUS IS LORD!
---